Recall from the Messaging for Engagement post we generally have 3 states of customer in the database:
Engaged – highly positive on company, very willing to interact – Highest Potential Value
Apathetic – don't really care one way or the other, will interact when prompted – Medium Potential Value
Detached – not really interested, don't think they need product or service anymore – Lowest Potential Value
Combine this messaging approach with a classic behavioral analysis, (the longer it has been since someone purchased, clicked, opened, visited etc., the less likely they are to engage in that activity again) and you get different messaging for each group, what I call Kiss, Date, and Bribe.  Click image to enlarge if you want…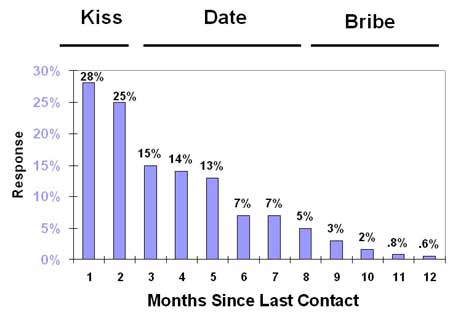 Please note "Months Since Last Contact" means the customer showing interest / taking action and contacting you in some way (purchase, click) not the fact that you have "contacted" them by blasting out e-mails.  Behavioral analysis is about customer behavior, not yours.
We've already gone over an example of Kiss Messaging, so lets provide an example of Messaging for the Apathetic. 
Recall the tactical background with Apathetics:
Apathetic – Date Messaging: We're not real clear where we stand with you, so we're going to be exploratory, test different ideas and see where the relationship stands.  Perhaps we can get you to be Engaged again?  In terms of ROI, this group has the highest incremental potential.  Example: this is where loyalty programs derive the most payback.
The most consistently successful (meaning profitable) messaging for this group generally looks at what their past behavior is and tries to drive it just a bit higher with a carrot / stick combo. 
In commerce, if you were looking at a behavioral segment such as "No Purchase in 180 days" (month 6 on chart above), you find their average purchase price and then discount for purchasing over that average price threshold.  So, for example, if a segment (or individual customer, if you can go that far) has an average purchase price of $80, you do a promotion like $10 off any Purchase over $100.  This approach tends to preserve margin on the customer while driving new activity, thus setting up the customer to become re-Engaged on a longer-term basis. 
Why re-Engaged?  A new purchase moves them to the 1 month column in the chart above, so they have a much higher "natural" likelihood to purchase again.  They are now Engaged again, and their messaging should change to Kiss, if you want to really leverage their state.
The values I have chosen above are not a "formula", you have to test and optimize the thresholds and discounts for your business.  For example, sometimes people don't trade up to just over the threshold, they'll respond to a $10 off purchase over $50 discount by generating an average purchase price of $125.  Now you're talking some severe latitude on your margins and you can try for incremental response with a higher discount or try to drive margin with a higher threshold.
The trick with Apathetics is this: unlike the Engaged, they probably need some incentive to act on.  But unlike the Detatched, they still have some Potential Value you would like to unlock – you don't want to just all out bribe them because you'll lose some of that Value. 
After all, in an always-on sales environment like the web, some people are going to purchase anyway – without an incentive – no matter what segment they are in.  For this 180 day case (chart above) a healthy portion of the 7% are "buy anyway" kind of folks.  The more Recent the action, the more likely it is to repeat.  That's why you give 'em a threshold – to ensure you don't give away more margin in discounts than you are making from the rest of the promotion. 
Does this "threshold approach" depress response?  Sure.  But are you trying to drive response (gross demand) or profit?  Those of you whose success is judged by ROAS don't need to answer; profit doesn't matter in your world.  You've never used a control group.
If you were working on my business, I'd want you driving profit.
Follow:  



Share: