Like many people, music is a distraction of mine.  I'm fortunate to own a collection of vintage electronic instruments and processors that keep me very busy in my free time.  Unfortunately, the studio is next to my office so access to these pieces is sometimes too quick and easy – a major distraction.  Here's the gang:
Farfisa Combo Compact (1964)    Fender Rhodes Mark 1 Stage (1975)
Steiner Master's Touch (1978)     Yamaha CS-15 (1979)
Roland Juno 6 (1982)     Yamaha DX7 (1983)    Yamaha QX21 (1985)
Kawai K3 (1986)     Kawai K5m (1987) – module version
Roland D-50 (1987)     Yamaha RX-17 (1987)    Roland JV-1080 (1994)
Roland FP-9 Piano / Controller (2000) – OK, so it's not vintage, but it's a sweet controller for all the rest of the 'boards – the ones that have MIDI, anyway.
All of these instruments, and only these instruments (no guitars, microphones, analog percussion, etc.) were used in my last major composition, the Honeymoon Suite (2003), which was mixed down on a Windows 98 PC through a Layla ADC using Cubase VST.
There's a story behind the music.  If you want to understand what the music is about, read the description under the links below.  Want to just listen to the music?  OK, here ya go:
Download / Play Complete Honeymoon Suite MP3  (10.1 MB, 11 mins)
This composition is divided into 7 sections.  If you don't want to listen to the whole thing, select a track from the list below.  The track that will be most interesting to the widest number of people is probably FORT KNOCKS.  If you are into wild synth sounds (e.g. the Devil speaking), try LOVE ON THE ROCKS.
ANTICIPATION – New Age
ARRIVAL – Island
HEARTBREAK HOTEL – Blues
TO DIE FOR –  Techno
THATS MORE LIKE IT – Island 2
LOVE ON THE ROCKS – Dark Age
FORT KNOCKS – Instrumental Rock
The HONEYMOON SUITE is a musical documentary of our trip to Tortola after getting married on November 4, 1995.
ANTICIPATION grew as we flew to the Beef Island Airport, and our ARRIVAL in the tropical paradise after all the wedding hustle and bustle was truly welcome.  The HEARTBREAK HOTEL was our first lodging, and was nothing like the pictures in the brochure, which were beautiful.  Walking through someone's living room to get to our room was not exactly what we had in mind for a honeymoon.
So we took off in search of a better place, a place TO DIE FOR, and almost did, wedged sideways on top of a mountain on a narrow road with a 1000-foot drop 3 feet away.  After what seemed an eternity of edging the car back and forth, we rolled back down the mountain – backwords.  THATS MORE LIKE IT we said when we got to our second place to stay, a gorgeous place on a beautiful beach.
Still early in the trip and still feeling adventurous, we walked a long way down the beach, and tried to climb around a rock face to get to a cove.  But it was LOVE ON THE ROCKS, for once again we were in over our heads.  We both got hurt and the struggle to get all the way back in the 100-degree heat was the most exhausting experience ever.
We were ready for relaxing after this episode, and FORT KNOCKS was the golden part of the trip.  We stayed at an old fort, toured the island, went to Virgin Gorda and St. Thomas, and generally had a great time for the rest of the trip.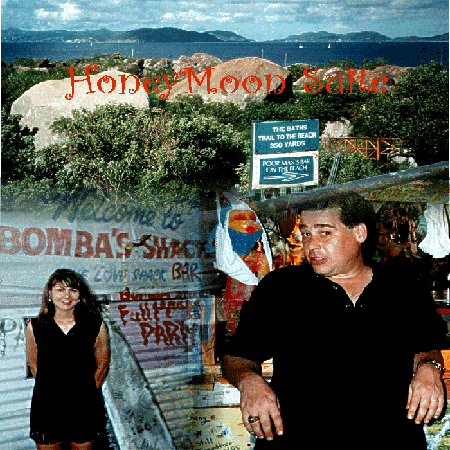 Follow:  



Share: