So I look at the mail yesterday and there's a catalog from Bliss.  If you don't know Bliss, they are an online / catalog / storefront multi-channel retailer.  The tagline on the book is "beauty by mail from new york's hottest spa" – yes, no caps at all.  So you pretty much know this book is positioned for younger – or want to feel younger – gals.
The book had a wrap on the outside with a message for the Apathetic.  This is a great technique to use because you can do it "in-line" with the rest of the mailing, which saves a lot on postage.  The Engaged just get the catalog, the Apathetic get the catalog with this special wrap around and they all are processed inline and enter the mail stream together. 
It's one of my favorite catalog tricks, check out the piece: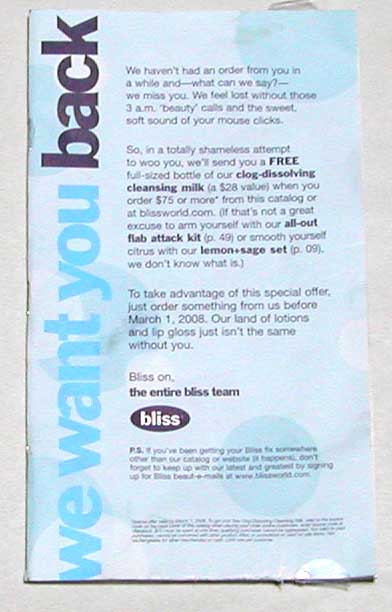 Let's do the copy thing:
You can see on the left spine the macro message of "we want you back" – again, no caps.  This is an acknowledgement of the state of the relationship – we're not sure if you like us, but we still like you!  This is a classic Date message tactic, it sets the proper tone and pulls the customer into the conversation.
Then they just come out and say it:
We haven't had an order from you in a while and – what can we say? – we miss you.  We feel lost without those 3 a.m. 'beauty' calls and the sweet, soft sound of your mouse clicks.
Yes, they're great copywriters, but there's a bigger point I think you should take away: you couldn't possibly get away with copy like this if you had not set up the personality of Bliss in the first place.  They can speak like this because they have spoken like this to the customer in the past – all over the web site and throughout their catalogs and hopefully in customer service phone / e-mail.  Consistently.  Everywhere.  That's a Brand in remote retailing, that's how Brands are built.  Theatre of the Mind is the best weapon you have.  Copy.  Art.  Get it?  What about your web site?
This is probably the most common retail problem on the web today – web sites / businesses that completely lack any kind of personality.  Catalogs know how important this idea is in remote retailing and have been using it for a very long time.
So, in a totally shameless attempt to woo you, we'll send you a Free full-sized bottle of our clog-dissolving cleansing milk (a $28 value) when you order $75 or more from this catalog or at blissworld.com.
The classic Dating offer, complete with a threshold ($75) as explained here.  They're testing.  The importance of the words "full-sized bottle" you don't know about but I do; about 4 weeks ago we received another "we want you back" effort that offered a trial size.  They're essentially starting small with the offers and when we remain Apathetic, they up the offer. 
This approach drives down the cost of the average customer reactivation; the strategy is called The Discount Ladder.
(If that's not a great excuse to arm yourself with our all-out flab attack kit (p. 49) or smooth yourself citrus with our lemon+sage set (p. 09), we don't know what is.)
This is just very smart merchandising, it is persuasive because it directs you to a specific place rather than giving you a lot of choices – by the way, how many different offers do you make in a promotional e-mail?  The choice of products promoted here may have been customized (not sure of my wife's buying history) or they may simply be very popular products with a high conversion rate to lapsed buyers on catalog covers.
I would bet the latter; that's how I would play it because after all, she's a lapsed buyer.  She's stopped buying because she doesn't want what she has bought before.  Do you make offers based on what customers have bought before?  Why is that?  Why not offer the products that convert people like the targets?
Unless you have specific evidence that "people who buy this also buy this" I'm pretty sure that outside of certain niches, you depress response by making "forced offers" to customers – especially lapsed ones – to buy a specific item or category just because they bought it in the past.  Think about it.  "Buy anything over $75" is a lot stronger offer than "Buy these specific things we are promoting".
A lot to test there as well…
To take advantage of this special offer, just order something from us before March 1, 2008.  Our land of lotions and lip gloss just isn't the same without you.  Bliss on, the entire bliss team
Par for the course here – a deadline and an "in personality" close.  Urgency and persuasion.  If you're busy, you probably keep the book at least to check out p. 49 and p. 09…
P.S.  If you've been getting your Bliss fix somewhere other than our catalog or web site (it happens), don't forget to keep up with our latest and greatest by signing up for Bliss beaut-e-mails at www.blissworld.com
Ah, the beaut-e of multi-channel done the right way.
They probably don't have perfect visibility between the direct channel (web and catalog) and the retail channel (who does?) so they are acknowledging that, telling you it's OK, and then offering you a service so you can "keep in touch" – the general theme of "we want you back".  They don't want you to feel bad if you find their retail distribution more convenient, and at the same time they're trying to re-engage you electronically and generate value from this catalog drop even if you don't buy. 
I guess the channel managers are team players.  By the way, this relationship started on the web site…and in my experience, you can extend the LifeCycle by switching customers to another channel.  But you don't want to force it, you let it play out the way the customer wants it to.  Test and look to the behavior; they will tell you what is right on an individual or segment basis through their actions.
bliss-ful job on the catalog wrap gang!
P.S. Well, almost.  A search for "flab attack" (phrase from the promotional copy above) on the web site returns this result:
We're sorry, but your search for flab attack returned no results.  Please try again with a different keyword, or double check the spelling. (You're not alone – we only learned how to spell 'fuchsia' properly a week ago.)
Gotta love that personality thing though…
Questions on this?  What do you think of this promotion?
Follow:  



Share: