So, we had some good "translation" discussions on the HSN Marketing process document, and the idea that there are a couple of ways to look at "Segments". 
It's my belief that if you start with Communication Segments (an idea we finally arrived at with the HSN Optimization in 1993) and then move to Visitor or Customer Segments, you will end up with a clearer, more actionable picture in the end. 
If each Band has a single Objective, and you Optimize to this single Objective, you will end up Optimizing the entire system because Visitors / Customers naturally flow down through the Bands as they pass through the LifeCycle.
There's really no concrete benefit, on either side, to send the same message to all the folks in these different Bands.  That approach is inefficient at the least and irritating to the customer at the most!
Given that, let's take a look at the same kind of chart for a business that is primarily web-based (you can click the image to enlarge):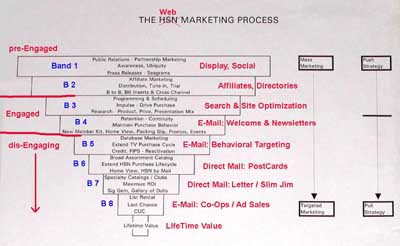 Again, the first 3 Bands generally address non-transactional participants (on the web, #3 is hybird) and are sub-segmented by ideas like Personas, demo or psychographics.  The bottom 5 bands are sub-segmented using transactional data, and how "deep" to Market down through these Bands is a Business Model decision.
For commerce models you probably Market most of the way down through the Bands.  Media models, probably only a couple of levels, because the Value of a "Customer" doesn't support going any deeper.
This approach – basing Contact Strategy on the "Band Status" (um, Engagement?) of a Visitor / Customer rather than simply by a Calendar Date – generally creates a Marketing Cloud that's much more Relevant to the needs of the Marketing recipients.
This is true no matter which Band Customers are in, and provides for greater overall Relevancy if Customers "hop around" between Bands – as some will do if your Marketing is successful. 
The primary Hop you are looking to encourage is to get folks in the process of Defection – Bands 5 to 8 – to hop back up to Band 3.  This is known offline as ReActivation. 
For Online Marketing purposes, we could call these same Hops up to Band 3 from the lower Bands Re-Engagement.  If you can go that far, the logic follows that Bands 1-2 are a pre-Engagement State, Bands 3-4 are the Engagement State, Bands 5-8 are a dis-Engagement State.  Remember there is a natural tendency for people to drop down through the Bands – this is the "Process" (AIDAS) part of the model.
The great thing about this approach is it doesn't really matter what metrics you decide represent "Engagement" for your site, what matters is if the Visitor / Customer is demonstrating pre- , full, or dis-Engagement behavior.  That's how you put them in a Band, and that's how you target the Messaging.
In other words, however you define Engagement, the Engaged Visitor / Customer is in Bands 3-4.  Measuring pre-Engagement for you is probably very similar to the web analytics thinking you do now on Conversion or (to reference Gary on lead gen) the likelihood of Conversion.  Measuring dis-Engagement is simply "how long since they were Engaged", by whatever Engagement defintion you use.
Finally, I'd just like to be very clear on this idea of Analysis and Action by Communication Band and Customer State – the only thing you care about for Marketing is what the Customer State / Communication Band is now, because now is what's most Relevant.  Those of you thinking about tracking "State Paths" or State History (and I know there are probably some) can put that aside, unless previous State is part of your Engagement Metric, or you're in the Really Advanced Class. 
Depending on your Engagement Metric, you might have to look at History to establish what a State looks like, the "boundaries" of a State, so to speak.  But once you establish the elements of a State, you run the analysis once a week or month and Communicate based on Current State.  State is a Snapshot, not a Movie.  A Trigger.
The reason History is not very useful: in this Model the Band / State is Predictive.  There is a natural tendency for the Visitor / Customer to fall down through the Bands.  The Bands tell you where the Visitor / Customer is going, what message will be most Relevant to them tomorrow – and that's why it's so incredibly valuable as a Marketing tool.  Marketing Relevance improves dramatically.
I realize many analytics folks are working hard on the Band 3 concepts right now.  If I was to pick a next target with the highest potential for ROMI, it would be the Band 4 / Band 5 transition, where you need at least 2 different e-mail streams – one the "business as usual" stream in Band 4, one that recognizes predictive Behavior in Band 5. 
Here is an easy to get started example:  If an e-mail recipient doesn't open your e-mail for 2 months, recognize that Behavior and change the e-mail stream for this customer to a Band 5 Communication Strategy.  Many of you already use vendors or systems with the capability to do this; all you need to do is think through the Customer State, create a Band 5 message, and Test versus the Band 4 message.  Test the same idea with different Behavioral windows; no open for 3 months, no open for 4 months, no open for 5 months, etc.
Need help with understanding Messaging by State?  You can get a good Overview here, with further info here and an awesome, detailed real world Band 5 example here.
Comments or questions on this?  Do you generally accept or reject this line of thinking?  Care to point out flaws, loopholes?
(A post by post index of this Marketing Bands Series is here.)
Follow:  



Share: