Not sure if all the web analytics folks out there will appreciate this post, but I'm pretty sure at least some of you are interested in how all the things we talk about in the Web Analytics / Database Marketing world fit into the larger world of Marketing.  So following on a question from Judah on depth of segmentation, and a post you should read from Gary on joining behavioral and demo / psycho segments, I thought I would offer this example.
One of the challenges people seem to have with behavioral segmentation is finding a way to organize it in their mind.  It just seems too overwhelming to think of Marketing to individuals at the "right time" based on behavior as opposed to some "calendar" idea where you communicate to everybody at once. 
If you want to create a "structure" or "process" to hang behavioral communications on, try this one.
Below is a chart I created in 1993 to explain what Marketing looked like at HSN (you can click for a larger image in a new window):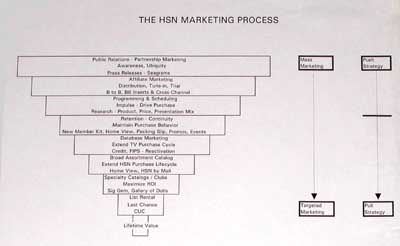 The format for each level in the chart is:
Type of Marketing
Purpose of Marketing
Tools / Tactics
I'd like to point out a couple of things.
1.  Note that I used the word "Process" in the title.  This is reflective of a real step by step road the customer takes, as opposed to a "Marketing Blast" kind of idea.  Each step has a specific Goal and Outcome and is measured that way; some measurements are more precise than others.  For example, in this world, "Brand-ing" has a role but it's a specific role, it's not "everything".  By the way, "Affiliates" in this case are cable systems carrying the HSN signal.
If you like, this is what the AIDAS Strategic model looks like when you fill it with Tactical Action programs.  It's also representative of the "cascading metrics" methodology covered extensively in Akin's book.
2.  I suppose no web analyst out there missed the fact this chart looks like a funnel.  It is.   The difference between this funnel and a "Scenario" funnel is you don't really have knowledge of "who" in the top 3 layers, these targets are "audience" as opposed to individual visitors or customers. 
In terms of segmentation, these top 3 layers are the psycho / demo ideas; as soon as you pass Level 3 you are into the first purchase, where the segmentation becomes behavioral.  Since at this point we have real data on the customer, the behavioral segmentation is more actionable than demo / psycho in terms of increasing customer value. 
The widest "Reach" is at the top layer, but it's the least targeted.  The finest segmentation is at the bottom layer, where the Marketing is absolutely hyper-targeted and very specific to the individual customer.
3.  You can see on the far right two continuums (continnua?) – Mass to Targeted Marketing and Push to Pull Marketing.  The transition area between the two is the 3rd to 4th layers (dark bar in the Push / Pull continuum), where you get into Retention and Continuity Tactics; now that you have customer data you can engage in these activities.
Generally, these shifts happen pretty much together, so Mass Marketing = Demo / Psycho Segmentation = Push Marketing, and Targeted Marketing = Behavioral Segmentation = Pull Marketing.
4.  Another way to view this chart is as the Customer LifeCycle, which starts with general Awareness and ends with Customer Defection and a final tally of LifeTime Value and ROMI.  At HSN, the Catalog business generated the most incremental value as a Retention Device, so it kicks in on Levels 6 and 7, first as a general merchandise idea, then as a very targeted category idea. 
For those of you wondering where the web is on this chart, we bought the first web property in 1994, after this chart was created.  But on the web, the core idea is much the same.  Different tactics have different primary purposes and they should be treated and measured that way, not just "Blasted" out in one continuous Marketing puke.  
The impact of these tactics should be measured at the customer level (not campaign level) whenever possible to really understand the net value added.  That's how you optimize the system.
Now, I have two questions for you:
1.  Did this chart help explain at all what the heck I'm talking about on this blog, or some other Marketing / Analysis issues?
2.  Do you have any questions?
I could go on and on about this chart in my language, but I would rather have you (especially the tech-oriented folks) ask questions in your own language, since:
* It seems like we get better knowledge transfer that way!
*  I don't know what you don't know; stuff that's obvious to me after 25 years of Marketing is probably completely opaque to you.
So, any questions?
(A post by post index of this Marketing Bands Series is here.)
Follow:  



Share: