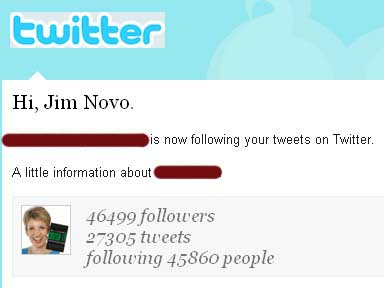 When you're in the business of measuring the effects of Marketing programs, certain patterns begin expressing themselves over and over.  One of the oldest in the contribution to success of various parts of a Marketing effort, sometimes called the 60-30-10 rule:
60 percent of success is determined by the audience quality
30 percent of success is determined by the offer
10 percent of success is determined by the creative
Where do these stats come from?  Continuous improvement testing.  Over the years, if you run a lot of different tests, you just begin to see this pattern.  And the pattern holds across a very wide variety of business models – online and offline.
The key takeaway here: audience quality is the most important component of success in a results-oriented Marketing campaign.  This is why the CPM's for niche Magazines, for example, are so high.  These Magazines are tremendously efficient marketing vehicles because they have high audience quality, which drives end behavior – results.
And the primary reason the audience quality is so high?
People pay for these Magazines.  When people pay for something, they value it with more Attention. Why? Simple.
In a magazine like Hot Rod or Concrete Decor or Vogue, the percentage of content that is interesting to the niche audience is very high. In fact, the Advertising is viewed as content.
Smaller audience, very high quality. Ads work like gangbusters.
Clearly, there are other ways to run a media model.  At the opposite end of the media spectrum, there is free.
You produce content that appeals to a very wide, least common denominator audience, one where very few people are interested in the Marketer's product at any particular time.  But because the advertising is so cheap on a CPM basis, this media can be effective for products with extreme distribution and universal demand.
That's why creative is more important in broadcast.  Because in Broadcast, there's a very small number in the success formula above where the 60% for audience quality used to be.  All you have to work with is offer and creative, because the audience quality stinks by definition – it's a broadcast, and Reach is the driving metric, not Quality – you have to turn over a lot of rocks.
Enter the Web.  Just think about it for a second.
Given the two media models above, which model will most likely succeed in an environment like the web? Where the very nature of the usage is defined personally?
I don't know about you, but the "Broadcast" model on the web just makes no sense to me; it's anti-consumer behavior. And Behavioral Targeting is the right idea using the wrong tool – we should be creating platforms for customizing content, not advertising delivery. It's back-asswords.
My old boss Barry Diller thinks a paid model will succeed, one more like magazines. And that makes a lot of sense to me. Not that there won't be free content.  You will always be able to read free content from:
* People who have opinions about a certain topic, whether very insightful or clueless
* People pitching you to buy something, whether the pitch is overt or "social" in nature
* People who are trying to build a reputation for themselves or a company, deserved or not
The real question for this free segment is, what advertisers will want to reach these audiences?  The answer, if there exist paid content sources with quality audiences, is nobody but the CPA folks.  And that will probably put a lot of the free content operations out of business.
Because the Brand folks, the ones with the big money, will go to where the (paid) audience quality is, because that model works for them. This is not about online or offline, the transmission mode of the content is irrelevant.
It's about advertisers wanting a quality audience. Just like what happened (over time) with Cable TV versus Broadcast. Smaller, niche audiences dramatically improve advertising performance.
But for this paid content model to work, it will also have to be about people not wanting to waste so much time combing through the crap to look for quality content.  It will be about the Net Meaningful Audience, the people who self-define their interest in a topic by their willingness to pay for it.
Meaning a much smaller, but much, much more profitable audience for many web sites. If the site-centric model survives. Vertical sites and networks seem like the right idea, but in practice people just go buy Reach, so they trash the model, turning it from Cable right back into Broadcast in terms of ads as content.
Or, someone like Google will finally make micropayments work.
If you can think past the tool to the behavior, I bet you might see why this could ultimately be the best idea for Display – essentially, the aggregation of a personal Magazine you pay for, article by article. A magazine like Hot Rod or Concrete Decor or Vogue. One where you get the best content on your topic from any source and you want to read every bit of it.
One where the Ads become content. Like they are in Search.
Kind of like the way people buy songs instead of albums, and create a personal collection of only songs they like?
Look, I know content wants to be free and all that.
The problem is, most of that content is worth very little from an advertising perspective, it lacks audience quality. And let's face it, most of the real investigative reporting and expert commentary is generated by the offline media, which online simply passes on.
And that's fine too, but this work has to be paid for somehow.
If online ever expects to get "its share" of the media budgets out there, what's needed is a second tier for Display to pay for this work, whether the work is done by an offline or online entity.
One like Cable on top of Broadcast. One where you get access to high quality content before anybody else. One with a focused, high value audience advertisers will drool over.
One where people expect the ads and read them like content.
Then the market will bifurcate, just like Cable and Broadcast, and you choose which online tier to use based on your business model.
Micropayments are not just about paying for content, folks.
They're about delivering a high quality audience that won't have the slightest problems with also viewing ads – because for virtually the first time on the web, the ads will be content.
Follow:  



Share: