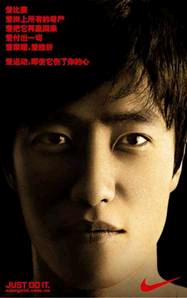 If you're not familiar with the Liu Xiang and his injury, see here.
In a brilliant, and stunningly swift move for a large org, Nike has managed to get full page "Just Do It" print ads into this morning's China papers supporting Liu Xiang.  The "Love" treatment, which you can see more on here, has this copy (translated from the Mandarin):
——————
Love competition.
Love risking your pride.
Love winning it back.
Love giving it everything you've got.
Love the glory. Love the pain.
Love sport even when it breaks your heart.
Just Do It.
——————–
Given some of the cultural issues surrounding China's hosting of the Olympics, this is just a fantastic local response by the Brand.  Otherwise, razor sharp with the Brand ID, and certainly Social link bait.
Wonder if the campaign will go worldwide?
Any downside to this approach for Nike?
 
Follow:  



Share: