Interesting to see what our friends in IT are working on this year: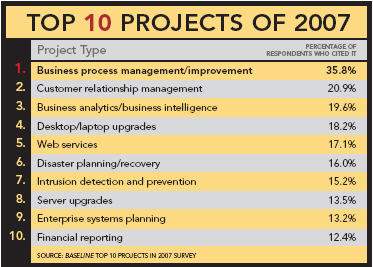 I would not have guessed Business Analytics / Intelligence was the Number 3 priority.  Good thing for analysts, someone is going to have to make sense of all that data and provide concrete direction…which seems to be the part hanging people up these days, not the analysis.  I imagine this BI activity has a significant role in driving success for #1 – BPM.
Full article with spending estimates and more details at Innovations Magazine here.
Follow:  



Share: